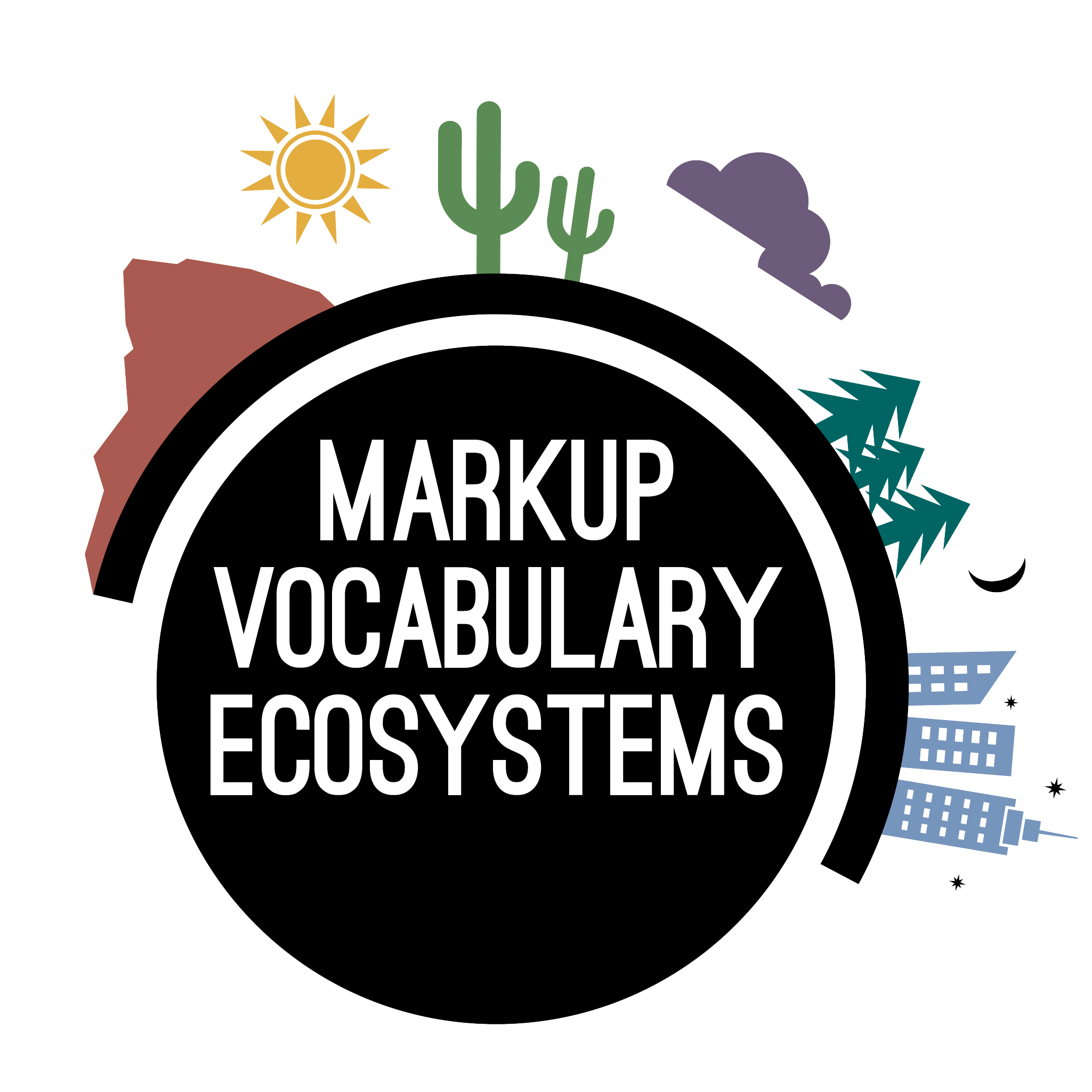 Symposium on Markup Vocabulary Ecosystems

a Balisage pre-conference symposium
Monday, 30 July 2018
CAMBRiA Hotel, Rockville, MD USA
Successful shared markup vocabularies (tag sets, document types, schemas, call them what you will), far from being just lists of tags, are the centers of complex ecosystems that support documentation activities while drawing support from both user communities and vendors. A complex ecosystem supports and is supported by these vocabularies. People spend significant time, energy, and money to create, adapt, adopt, modify, maintain, and promulgate the tag set. Users buy and customize tools to create and use content tagged to it and change their processes and tune their requirements to the (often only implied) world view behind the tag set. Vendors specialize in it.
Each vocabulary ecosystem is different, and yet they seem to have common features:
de jure

version(s) created by a formal organization

de facto

version(s) from other sources
multiple sources of enriched or targeted documentation and examples
pressure to conform (from peers, business partners, laws, or funders)
shared process chains (at least in part)
discussion lists, shared information resources, and conferences
rules and enforcements beyond the grammatical
shared tools and tool customizations (code on github, code and services for sale, etc.)
In this symposium we will discuss the features of markup vocabulary ecosystems, how to nurture them, and how strategies to support some vocabularies might be useful to the communities that surround other markup vocabularies. Our focus is on the ways in which we create and support shared vocabularies, not on any particular tag set, so examples from DITA, DocBook, NIEM, HTML, JATS, HL7, OOXML, PRISM, UBL, TEI, or any of the other thousands of public or private shared markup vocabularies are in scope for this discussion.
CALL FOR PARTICIPATION:
Do you use a shared markup vocabulary? Tell us how your experience with it could be improved, or what aspects of the experience you find particularly helpful. Have you modified your processes or infrastructure to accommodate a shared vocabulary? Why? Are you happy you did it?
Are you the creator or maintainer of a shared markup vocabulary? Is there something in your vocabulary documentation that is unusually useful? Is there a tool to create subsets (or supersets) of your vocabulary? Why? How does it work? What innovative aspects of your vocabulary ecosystem might be useful in other communities?
Do you help users of a vocabulary you do not control? Do you provide additional/alternate documentation? Usage guidance? Examples? Tools? Do you make or share business rule checkers? Is this for the whole community or a sub-set? How do you contribute to the vocabulary ecosystem?
Would a shared markup vocabulary be useful to you? What would it take to create and promulgate that vocabulary?
Who:

Users, creators, sponsors, maintainers, and allies of shared markup vocabularies.

Help:

Just Ask
Email: info@balisage.net for help, advice, or encouragement about a symposium submission.
Wonder if your idea will fit in at the symposium on Markup Vocabulary Ecosystems? Ask us! Need help making your paper or proposal into XML as required for submission? Speak up; we'll find someone to help.

When:

Dates:

22 April 2018 — Paper submissions due
21 May 2018 — Speakers notified
6 July 2018 — Final papers due
30 July 2018 — Pre-conference Symposium
31 July –3 August 2018 — Balisage: The Markup Conference

How:

Submit full papers or short paper proposals in XML to info@balisage.net
See the pages Instructions for Authors and Tag Set and Submission Guidelines for details.
Apply to the Peer Review panel