Introduction
In his PhD work [Maa13], the first author of this paper, under the second author's supervision, is designing and implementing a system called XFGen, that generates a schema-aware XML editor XFGen(s) for each XSD schema s. The key achievement of this work is that the editor XFGen(s) is an XForms document that is capable of creating or loading, editing and saving any XML instance that conforms to the schema s; each user interaction with XFGen(s) preserves validity of the XML instance against schema s. XFGen(s) is much more than a form editor. It goes beyond letting users fill out data fields for a structurally static XML document in that it enables editing of structure, too. Each editor XFGen(s) is indeed a fully functional schema-aware XML editor. Here are some crucial properties of the editors that XFGen generates:
Strictly schema-aware (schema instances always in schema-conformant state).

Implemented as an (extended) XForms document.

Supporting a large part of XML Schema.

Completely independent of XML instances, capable of loading or creating from scratch, editing and saving any schema-conformant document.
The generator XFGen covers nearly the complete XML Schema specification. It handles, most importantly:
Elements declared as complex types

Elements declared with simple content

Recursive type definitions

Mixed-content declarations

Multiple potential top-level elements (elements declared globally)

Identity constraints

Attribute declarations

Predefined simple types

A wide range of facets in simple type restrictions

Union of simple types

Lists of simple type
Other parts of XML Schema are also supported, but did not require great effort, since their support mostly rests on standard schema validation. They are: inheritance, substitution groups, namespaces, inclusions, attribute and element groups. Furthermore, we wish to emphasize that element and attribute declarations as well as type definitions can all be local or global.
The remainder of this paper is organized into five sections as follows: The next section is about architecture; it illustrates the interplay between components and briefly describes the architecture of the editors that XFGen generates. The main part of the paper is a tour of principles that we have used with XFGen; we cover editing of data values, editing of non-recursive structures and editing of mixed content. After that, we have sections about implementation and related work, before we conclude. For further illustration, we provide an appendix with editor screen shots for the purchase order example from the XML Schema Recommendation WF04.
The complete XForms generator XFGen is ready for demo at Balisage 2013. In this paper, we point out some of the challenges of XForms as an implementation technology for a schema-aware editor and demonstrate some of the principles and techniques that make such editors possible. A complete description can be found in Maalej's PhD thesis [Maa13].
Architecture
Components and their interactions are illustrated in Figure 1.
Figure 1: Components and their interaction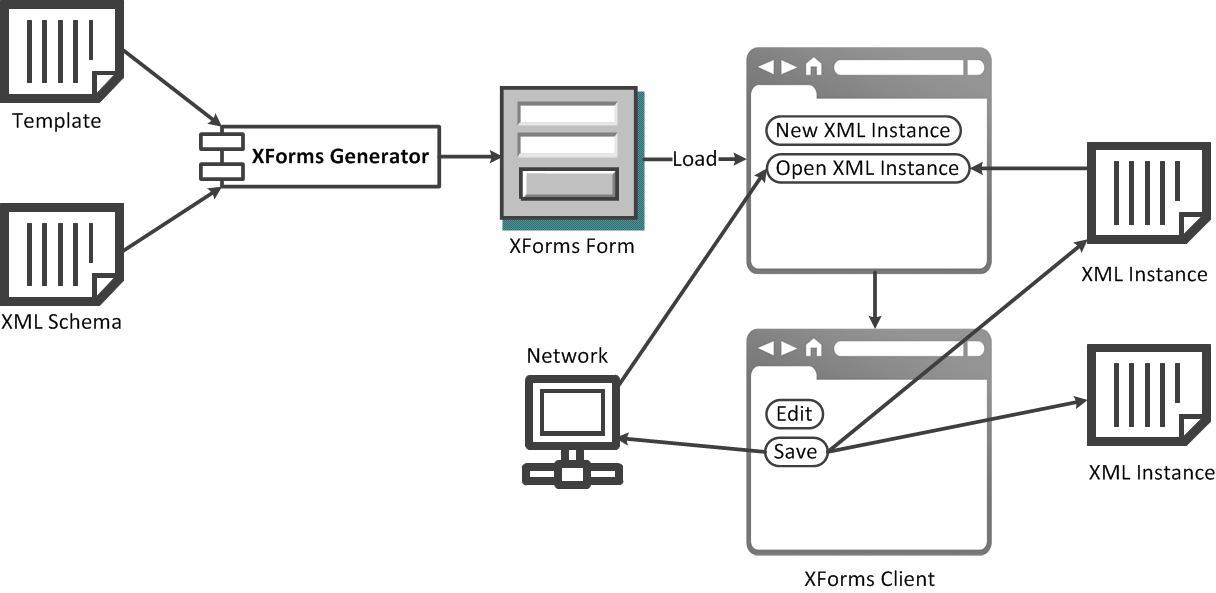 The editors (XForms documents) that XFGen produces are complex pieces of software that conceptually follow the Model-View-Controller (MVC) architecture. They are realized as extended XForms.
The data of each editor consist of the XML instance, that is to be edited and can be loaded, freshly created, replaced and saved on demand, and of some auxiliary state, comprising among others prototype structures that can be copied into the XML instance during editing under action control. The editor's data are contained in the data-model section of the form. The form's data model also holds declarative constraints for the editor's data, expressed as XForms bindings, and actions that will be triggered during the form's life, for example for editing. Conceptually, with respect to MVC, some of the latter are part of the controller.
The view of each editor is defined by templates of XForms widgets, that are embedded into a host language, most commonly HTML, but we have also tested XUL. The view is generated by XFGen.
The controller of each editor consists of XForms actions and custom scripts that XFGen inserts into XForms; they are executed by the XForms engine in the XForms client.
A tour of principles for XForms editors
What are the principles that govern how the XFGen-generated XForms editors are built? In this section we illustrate them incrementally by example. We show the XForms code that is generated and how it is executed in a browser, for a series of XSD examples. And we explain systematically the underlying principles.
Implementation
The system XFGen itself is a standard Java program. it uses Xerces to process XML Schema. The XForms documents that XFGen generates require extensions for some XSD features (recursive type definitions) or editing tasks (experimental evaluation to determine admissible edit operations dynamically). These extensions utilize XBL scripts that interact with certain data structures and methods of the XForms processor [Hic12]
XBL is a scripting language that was introduced by Mozilla and submitted to W3C, but has not been standardized by W3C. Some XForms processors, among them Orbeon Forms, offer interfaces for XBL scripts that can access internal data structures and functions of the XForms processor. These interfaces are not standardized. We have extended the Firefox plugin XForms processor, which incidentally is programmed in XBL itself, with XBL functions. Consequently, the more complex XForms documents that XFGen produces run only on this custom extension of the XForms Firefox plugin on old versions of Firefox. We refer to Dubinko's text on extending XForms [D2003].]
Some XSD features can be more fully supported with an XForms processor that allows for XPath 2.0. Unfortunately, the Firefox plugin XForms processor that we use only supports XPath 1.0, as required by XForms. Consequently, support for some XSD features such as identity constraints is more cumbersome to define or even more limited in practice than conceptually necessary.
Related work
We briefly discuss three papers that are related to our work [RRK05][SL07][WKdW04].
Despite its title and stated intent, the paper by Radha [RRK05] and others does not really contribute anything specific to user interfaces. It is mainly concerned with semantic interpretation of XML Schema, given a generic DOM representation that sees the schema just as any XML document. A Java Swing user interface is presented without discussion how it was generated.
Song and Lee [SL07] specifically address the XForms target platform. Their goal is to support user interfaces for Web Services. They also briefly address the task of semantic interpretation of XML Schema. As to schemas, we don't see that they support recursive type definitions. The editors that are generated can only generate new XML documents from scratch, not load existing documents. Editing of structures and of mixed content is supported, but only in a "one-way" approach; that is, edit decisions, for example for one alternative when a choice is given, cannot be revised. There is some support for custom simple data types, for some facets in restrictions and for union. The paper mentions lists but means presumably the enumeration facet, since only a finite number of items in the base type can be supported with xforms:select1.
De Wolf and others [WKdW04] discuss problems that need to be solved when XForms is used as an implementation platform for an XML editor. They seek solutions mostly in extensions to the XForms standard. Some but not all of their proposed extensions have in fact found their way into the XForms 1.1 specification.
Our system XFGen supports a far greater range of XML Schema features than comparable systems. We delegate the semantic interpretation of XML Schema to Xerces. We have explicitly delineated some principles and algorithms of XFGen; further capabilities of XFGen are covered by Maalej in his PhD work [Maa13].
Discussion, conclusions and further work
Maalej in his PhD thesis [Maa13] covers further features of XML Schema:
Recursion in type definitions.

Custom simple types (restriction, list, union).

Identity constraints.
In principle, the XML editors that are generated by XFGen could be platform independent, but currently, they are not. We would need an alternative XForms processor that allows the necessary extensions and also runs in current browser. One candidate would be xf.js [NBK13] in a more fully functional version, where we could use JavaScript to support the extensions.
In this paper, we have not discussed the user-interface aspects of the editors that XFGen generates. We follow a template approach as indicated in Figure 1. For the examples in this paper, we have defined basic templates with the HTML fieldset element. Obviously, more sophisticated custom templates that combine HTML with CSS need to be tried out.
Although XFGen handles mixed content, the generated editors presumably work better for data-driven XML instances than for text-driven ones. Particularly with text-driven XML documents, we run into the largely unsolved usability problems of general XML editors. Our generated editors work probably best in cases in which a classical form-based interface is appropriate. Investigate further.
Further documentation of this work will appear in Maalej's PhD thesis [Maa13].
Acknowledgement
The comments of the anonymous referees have been extraordinarily helpful. Thank you!
Appendix A. The purchase order example
For further illustration, we include the purchase order example from the XML Schema Recommendation WF04 with the schema in Figure 12, an instance in Figure 13 and two browser screen shots in Figure 14.
Figure 12: Schema purchaseOrderS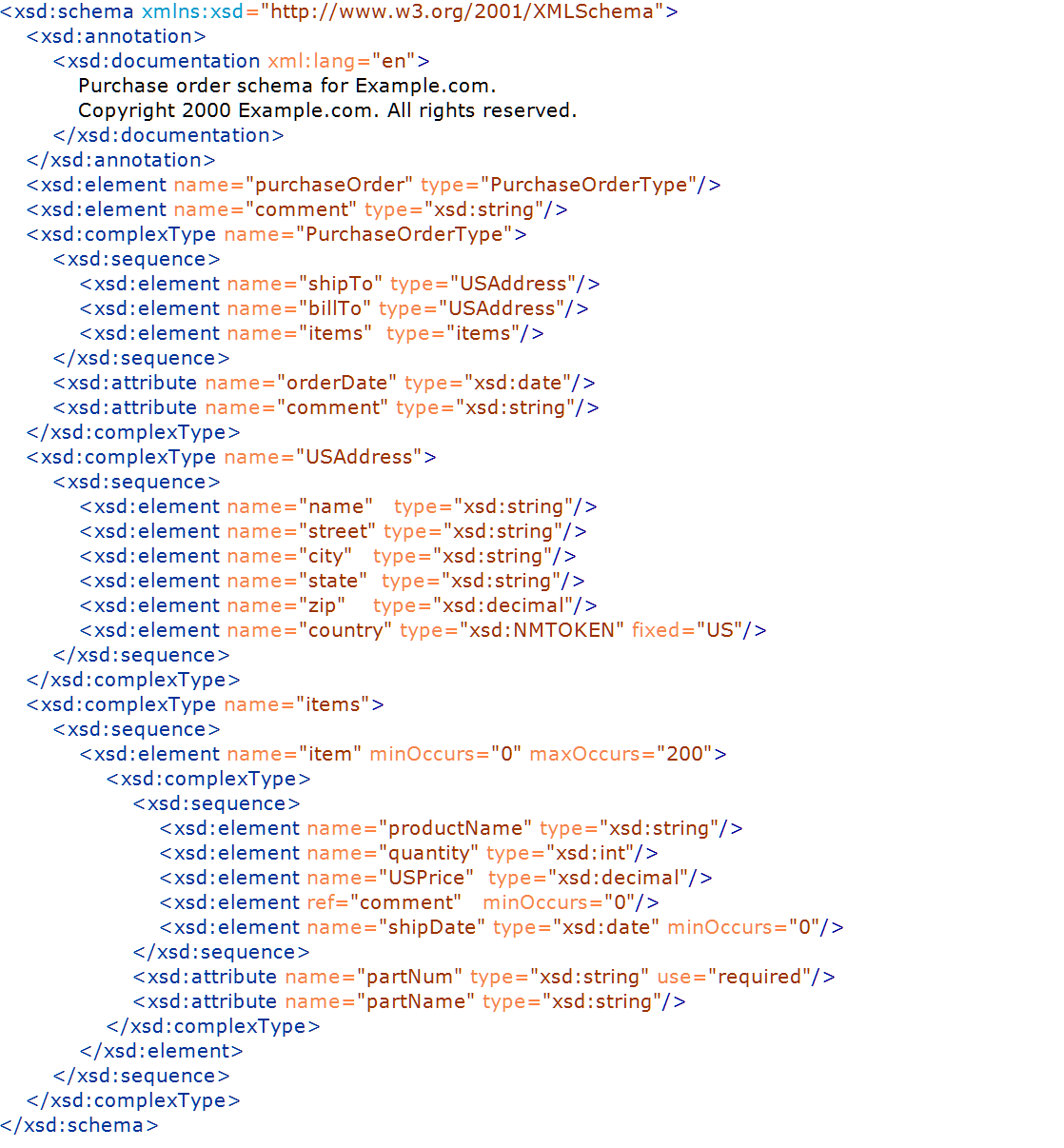 Figure 13: XML instance purchaseOrderI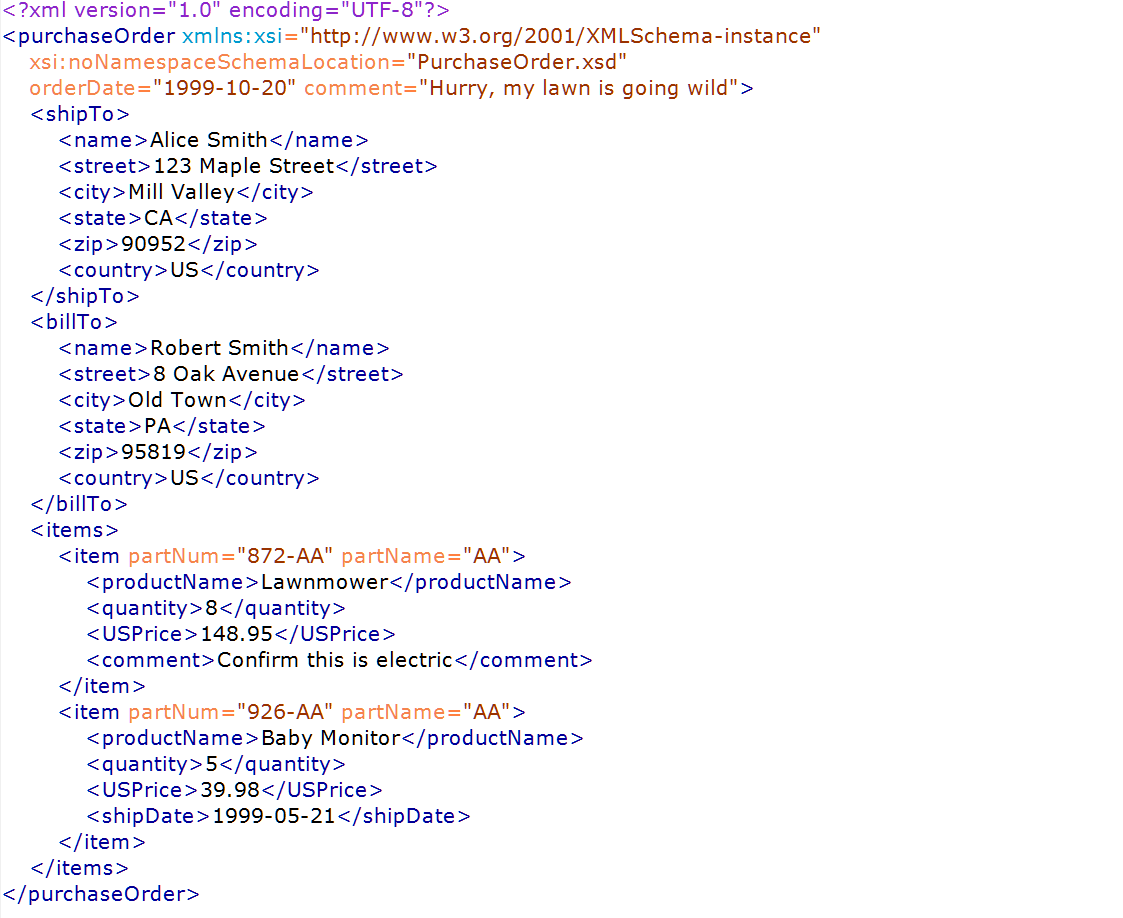 Figure 14: Editor screen shots purchaseOrderB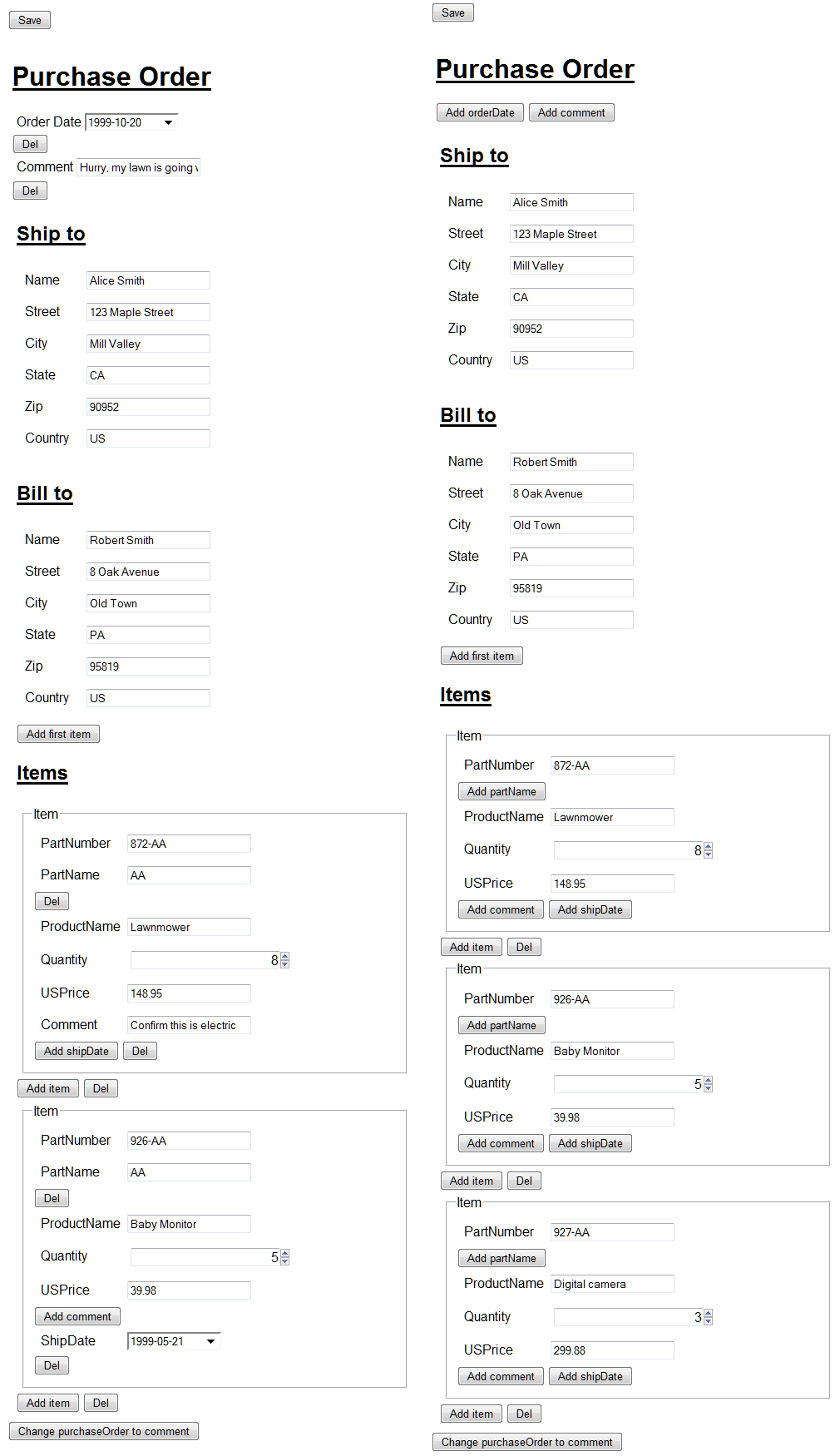 References
[Boy09] John M. Boyer, XForms 1.1, W3C Recommendation, W3C, October 2009, http://www.w3.org/TR/2009/REC-xforms-20091020/.
[BPM04] Paul V. Biron, Kaiser Permanente, and Ashok Malhotra, XML Schema Part 2: Datatypes Second Edition, W3C Recommendation, W3C, October 2004, http://www.w3.org/TR/2004/REC-xmlschema-2-20041028/.
[Dub03] Micah Dubinko, XForms Essentials, O'Reilly & Associates, Inc., Sebastopol, CA, USA, 2003.
[Hic12] Ian Hickson, XBL 2.0, W3C Candidate Recommendation, W3C, Mai 2012, http://www.w3.org/TR/xbl/.
[Maa13] Mustapha Maalej, Generieren von XML-Editoren in XForms aus XML Schema, Ph.D. Thesis, TU München, 2013, In preparation.
[NBK13] Tobias Niedl and Anne Brüggemann-Klein, Processing XForms in HTML5-Enabled Browsers, Balisage 2013, 2013. doi:https://doi.org/10.4242/BalisageVol10.Niedl01.
[RRK05] V. Radha, S. Ramakrishna, and N. Pradeep Kumar, Generic XML Schema Definition (XSD) to GUI Translator., ICDCIT, Lecture Notes in Computer Science, vol. 3816, Springer, 2005, pp. 290–296. doi:https://doi.org/10.1007/11604655_33.
[SL07] Kisub Song and Kyong-Ho Lee, An Automated Generation of XForms Interfaces for Web Services, 2012 IEEE 19th International Conference on Web Services (2007), 856–863. doi:https://doi.org/10.1109/ICWS.2007.35
[TBMM04] Henry S. Thompson, David Beech, Murray Maloney, and Noah Mendelsohn, XML Schema Part 1: Structures Second Edition, W3C Recommendation, W3C, October 2004, http://www.w3.org/TR/2004/REC-xmlschema-1-20041028/.
[WF04] Priscilla Walmsley and David C. Fallside, XML Schema Part 0: Primer Second Edition, W3C Recommendation, W3C, October 2004, http://www.w3.org/TR/2004/REC-xmlschema-0-20041028/.
[WKdW04] Koen De Wolf, Frederik De Keukelaere, and Rik Van de Walle, Generic XForms-Based User Interface Generation for XML Schema, Proceedings of the IADIS International Conference e-Society 2004, 7 2004, pp. 773–782.